Description
With over 30 years in the events business Warwick have the experience and equipment to deliver every element of your event to the highest of standards. Whether a small conference, an awards show or a full conference and expo, Warwick have the team to deliver to the highest of expectations.
Warwick Event Services is a full production events company offering in house solutions for all of you event requirements.
In addition to our core services, Warwick Event Services have spent over 30 years finding solutions for clients and delivering exceptional results that surpass expectations.
Working alongside industry partners and creatives, the team at Warwick have come to realise that anything is possible!
Visual, Video and PowerPoint
Their visual engineers have years of experience, both with ensuring the seamless delivery of presentations and video, along with supporting speakers and ensuing they are at ease.
Large Format HD Wall:
Warwick is one of the first production companies in the UK to own and operate a state-of-the-art HD large format LED wall. This system can display fully branded artwork, picture in picture, live video and pre-recorded footage, along with a range of other visual content. Coming in 500mm x 500mm sections, this system is extremely flexible with regards to design and budget.
Sound
Warwick offers a wide range of PA systems, to ensure a system suitable to client's bespoke requirements. Sound engineers are experienced in working with a range of users – from keynote speakers to bands and performers, and will ensure everyone is comfortable using the system, and maintaining a high quality of sound production at all times.
Lighting
The right lighting can transform a space. Lighting engineers boost both creativity and patience in spades, resulting in creative and beautiful results. Warwick always work to exceed your expectations, while being considerate of the event budget.
Staging and Stage Sets
Warwick build sets to complement your occasion and offer a bespoke set design and build service. In addition, they stock a wide selection of pre-built sets which can be customised to suite many types of venues.
Exhibition Design, Build and Management
Warwick Event Services own a large stock of:
Shell scheme
Electrical equipment
Poster boards
Furniture
This company offers a full CAD floor plan drawing services, to show how your exhibition will fit to scale within a space, advise on good delegate flow and footfall to stands. They can also liaise with your venue, to ensure they sign off all plans, and obtain details on electrical distribution for the show.
Happy exhibitors are key to a successful exhibition and Warwick exhibition sales executives can set up a complimentary online ordering system, to support them with anything they may need for their exhibition stand.
Event Support and Subsidiary Services
Warwick been asked to source some weird and wonderful event additions… A live goose herding demonstration? A speaker's podium made to replicate the boat from Phantom of the Opera? A stage set encompassing a full-size tree and grass for a Midsummers Night Dream Awards Dinner? All real examples, and all looked awesome!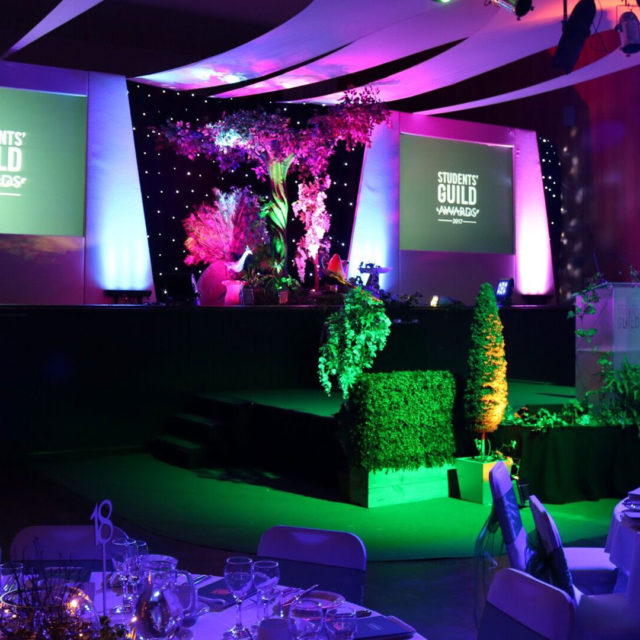 Glengall Street Office
Europa Hotel
Belfast
Antrim
BT2 7AP